An Overview of the Citrus Industry in Bhutan
Organization:

Ministry of Agriculture
Integrated Horticulture Development Programme
PO Box 119
Thimphu, Bhutan
An Overview of the Citrus Industry in Bhutan
Introduction
Bhutan is a small landlocked kingdom in the eastern Himalayas. 85% of the population is involved in farming.
Mandarin orange (Citrus reticulataBlanco) is the most important sub-tropical fruit grown in Bhutan (Figure 1) and the second largest export crop.
It is cultivated in the southern foothills between 300-1400 m above sea level (Table 1).
Other species such as lime (C. aurantifolia) and lemon (C. limon) less important.
Table 1 Climate in the Mandarin Growing Areas
 
Temperature Range
in Degrees Celsius
Summer Winter
Annual Rainfall
(mm)
Lowlands below 650 masl
15-38
10-25
above 4000
Mid altitudes up to 1400 masl
14-31
3-21
1500-2000
Orchard on Hill Slope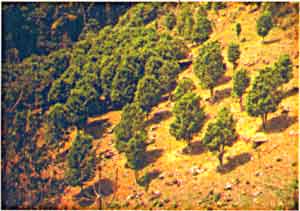 Development Activities
Development activities largely carried out through Government initiatives. The research system is relatively young. On-station and on-farm research focus on:
Identification of suitable location-specific species and varieties that can improve diversification and have marketing potential.
Generation of appropriate management and post-harvest technologies (eg. tree size control, water, nutrient and pests/diseases management).
Other development activities include

generation of inputs (eg:planting material)
market research, information and infrastructure
human resource development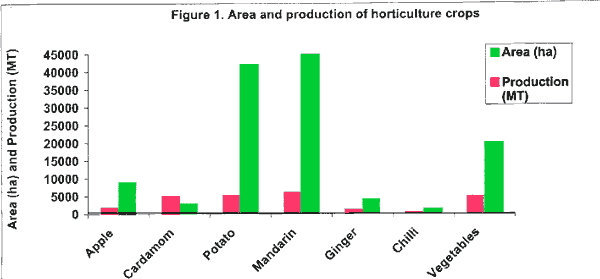 Variety
Phenotypically similar trees and fruits, believed to be of one variety.
Trees are usually tall, upright with small to medium canopy structure, multi-stemmed with thorny lower trunks. Fruit is loose skinned, easy to peel, medium (45-70 mm in diameter), slightly flattened with a prominent button, moderate seeds, excellent flavour and texture.
Post-Harvest Management
fruits are harvested manually using long bamboo ladders.
harvest damage to fruits can range between 5-20% at the farm level.
fruits are visually graded according to size, colour and appearance.
local price ranges between Nu 40-100 (1 A$=Nu 23) for 80 pieces while export price range from Nu 80-160 per 80 fruits.
---
Potentials
Harvesting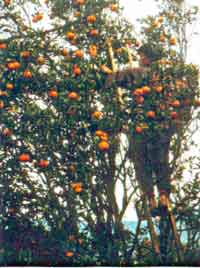 Wide agro-ecological zones with potential to produce wide range of citrus
Seasonal comparative advantage (out of season) over neighbours
Proximity to markets (India, Bangladesh and parts of south east Asia)
Rapid economic growth in the region, expanding tourism and emerging of middle class in the country resulting in increased demand in fruit variety.
Constraints
Mountainous terrain and narrow valleys with steep slopes would limit large scale expansion, mechanization, accessibility and management.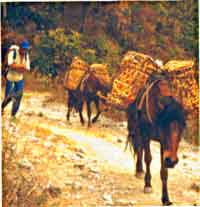 Transporting
---
Grading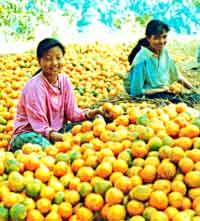 Propagation
Traditionally grown from seedlings. Now initiating vegetative propagation.
Management
is generally basic and organic because of the difficult montane topography (slopes ranging from 0-60%), small orchard sizes (0.2-6ha).
mid density (400-550 trees per hectare), in the absence of tree size management and poor management results yields = 40-80 kgs/tree.
intercropping with other crops such as fodder species and vegetables are practiced by a few farmers.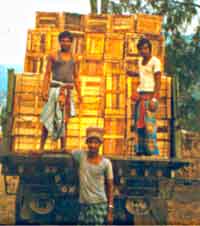 Packed fruits ready for Export
Pests and Diseases
Chinese Citrus fruit fly (B. minax) is a major pest, causing fruit drop and reducing yield by up to 50% in some places.
Trunk Borer (A.nr.versteegi)and citrus shield bug (R. poseidon)are also quite common. Other minor pests and diseases include whiteflies (Aleyrodidae), mealybugs (Pseudococcidae), aphids (Aphididae), sooty mould, powdery mildew and parasites such as Loranthys (S. parasiticaL).
Citrus shield bug (Rynchocoris poseidon)
and tree parasite, Loranthus(Scurrula parasitica)
Chinese Citrus Fruit Fly, Bactrocera minax Adult and Larvae

(END)